Welcome to the Wiki!
[[File:|center|250px]]
Welcome to Psychic Detective Yakumo Wiki
You can help us to expand our wikia by editing or by creating pages!
WARNING: This wiki is full of spoilers! Read at your own risk.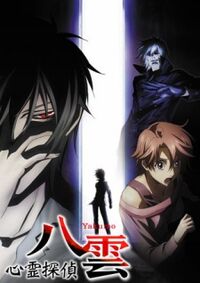 Synopsis:
Yakumo Saitou, a reserved College student, was born with a red left eye. This eye, which he usually hides behind a contact lens, gives him the ability to see ghosts and spirits and has brought him many hardships throughout his life. Even though this special vision could easily scare anyone, it doesn't scare Yakumo. He strongly believes ghosts and spirits have feelings left behind, bound to earth because of a certain 'cause'. It is his opinion that by talking with them, he can eliminate that 'cause' and release them, allowing them to rest in peace. One day, a fellow College student named Haruka Ozawa knocks on his door, asking for help to save her friend, who she believes to be possessed. Reluctantly, he accepts, and thus begins a story full of unsolved supernatural events, bound to be deciphered by the two, and Yakumo's journey to release his heart from his painful past.
Latest Episode
Episode 13: Beyond Despair ~ Eternity ~
Miyuki shot Gotou in the stomach to generate hatred within Yakumo so that his father's spirit can attempt a possession. Miyuki explained that the purpose of luring Yakumo to embrace the darkness is to ensure that his state of mind is practically the same as his father, allowing his father and his soul to merge and for his father to take over his body. Yakumo appeared to be possessed by his father as both his eyes is now red; but he has tricked Miyuki by using his uncle's red contact lens. He managed to disarm Miyuki but she managed to escape. Yakumo's father vow to continue to pursue his objectives. Yakumo gave his consent to sign the organ release form to save Sakaibara's daughter; but on the condition that Sakibara turned himself in to the police. Meanwhile, Miyuki drove a car into the lake and her body was never found. Gotou and his wife decides to adopt Nou as their daughter. After the funeral of his uncle, Yakumo discovered his uncle's spirit still lurking around and managed to convince his uncle to leave by telling him that both Nou and he will be fine and that they have a family. Read More...
Featured Character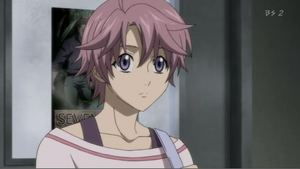 Haruka Ozawa is the main female protagonist of Psychic Detective Yakumo.

She is a university student who first met Yakumo when she needed help from him due to her friend being possessed by the souls of several murdered women. Yakumo agrees to help her, but for a fee. She begins a part-time job to help her pay him back, but quits after some time when Yakumo informs her that the fee had been settled. Haruka has short, spiky purple hair and pale, light skin. She is of average height. Detective Gouto describes her as "quite a catch", showing that he believes her attractive.

Click for more on this Character...
Vote for the next feautured Character...

Links
link=http://www.kadokawa.co.jp/title/index.html?t_id=000036 Psychic Detective Yakumo (Anime Page) Psychic Detective Yakumo (anime) at Anime News Network's Encyclopedia Psychic Detective Yakumo (manga) at Anime News Network's Encyclopedia Psychic Detective Yakumo (manga) at Anime News Network's Encyclopedia Psychic Detective Yakumo at IMDb.com
Featured Image
[[File:|300px]]
WikiaAnime Twitter Feed
Pshychic Detective Yakumo Poll
Who is you favourite character?
Did you know?
Opening Song
Ending Song